Kristin Meekhof appeared / mentioned in…
Selected Media Appearances for Kristin Meekhof
In 2020, Kristin was asked to participate in a 
Coursera course
 for the University of MI and Pixar (Disney) collaboration. She spoke about
gratitude.
 For the same collaboration, Kristin also spoke about meditation in this
clip
.
CNN/ New Day/ Live-
Managing Anxiety During These Uncertain Times
– , March 19, 2020. 
link
to piece.
Kristin created a wellness
video
for Katie Couric's community in 2020
Instagram live
interview
Kristin did earlier in 2021. A Rachael Ray show contributor, Gretta Monahan, did interview and Kristin spoke about resilience and loss.
Selected 2021 Articles Written by Kristin Meekhof
"Why I Broke Up With My Fifteen-Year-Plus Corporate Career", pubished in Medium, featured on Index, a Medium publication, August 29, 2021.
"A Serene Summer" published August 16, 2021, online & in print- Organic Spa Magazine.
"Five Tips For Caregivers to Consider", published April 5, 2021, online  with"Psychology Today", selected as an "Essential Read" by "Psychology Today" editor.
"Reclaming Resilience" published February 9, 2021, online and in print- Organic Spa Magazine.
"Seven Ways to Support Yourself As A Caregiver During The Pandemic", published January 14, 2021, online with "Psychology Today", selected as an "Essentail Read" by "Psychology Today" editor, and featured on the Elizabeth Dole Foundation Twitter account.
Selected List For 2020
Today online – It's Not to Late To Cancel Thanksgiving- Here's How to Do It ~ November 2020 ~ Read article .
CNN's New Day – Live – Managing Coronavirus Anxiety– March 19, 2020 ~ Link to video is here.
Huffington Post quoted in 15 Things Therapists Do When They're Anxious Watching The Debates– October 7, 2020; link here.
Architechtual Digest– quoted in 5 Ways to Deal With Grief at Home, May 26, 2020;  link here .
Thrive Global– quoted in 10 Things We're Especially Grateful For This Thanksgiving, November 24, 2020; link here.
People Magazine – quoted in How to Support Your Parterner, December 22, 2021; link here.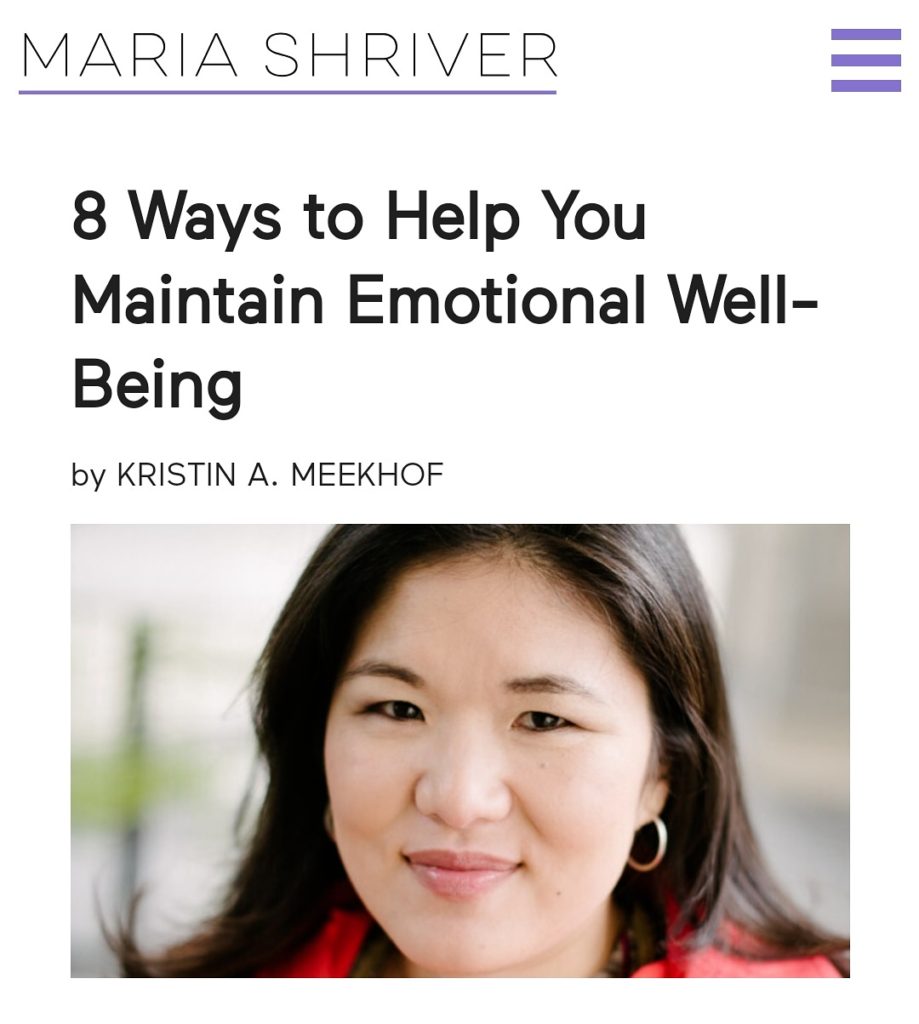 Published In (partial list) 
Katie Couric Media–  8 Tips for Elevating Your Mind and Decreasing Stress, Medium, October 5, 2020, for Katie's Daily Newsletter~ link here.
Prior to 2020
Reader's Digest – 10 Things You Should Never Say to a Widow, 2016
quotes from Kristin Meekhof Read Article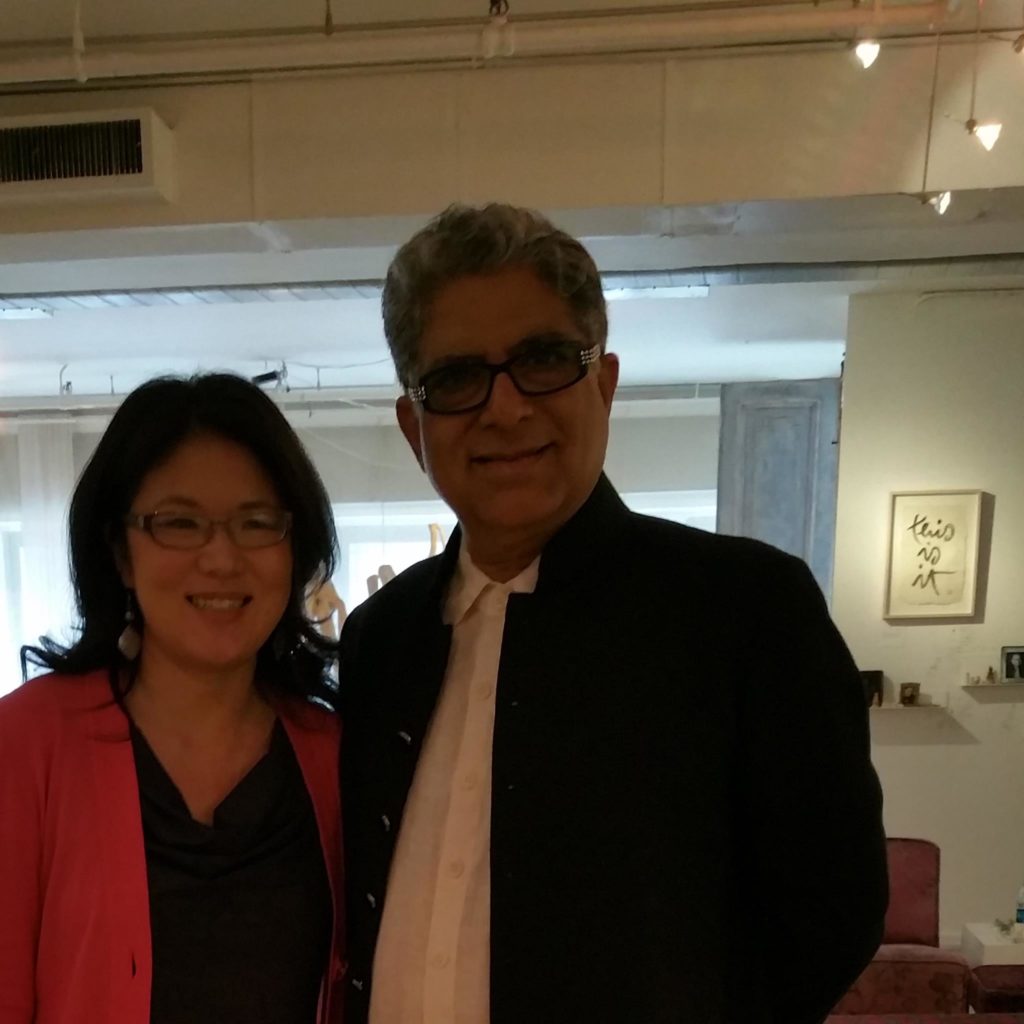 Inc. Interview Kristin Meekhof
10 Networking Secrets From A Social Worker Who Landed Deepak Chopra as Her Mentor With One Tweet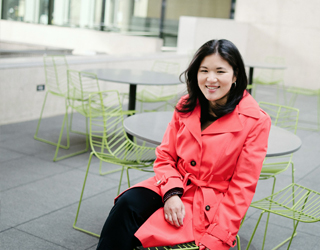 Kristin shares with Redbook Magazine (October 2016 print) why she chose to get the CDC recommended vaccines before traveling to Kenya.
Read article here
ESME interviews Kristin Meekhof
Kristin Meekhof:Helping other widows heal, Read Article

Katie Couric for Yahoo Health,
Widowed at 33: A lesson in strength and survival Read Article
Success Magazine,
What to do when you've got the holiday blues Read Article
Detroit Free Press,
Orphan turns author, becomes friends with Deepak Chopra Read Article
The Oakland Press,
Local authors' book guides widows to healing Read Article
The Chicago Tribune,
How to tell your family your spending less on holiday gifts Read Article
Huffington Post Live,
Kristin Meekhof was a guest View Video
WXYZ, ABC Detroit,
Live interview with Kristin Meekhof  View Video
Blog Talk Radio,
Bill Kenower talks with Kristin Meekhof Listen to Stream
American Greetings,
Gratitude and Grief: Kristin's Thanklist Read Article
Refinery 29,
What To Say In Life's Most Difficult Situations Read Article
US News and World Report,
How to Trim Your Caffeine Costs Read Article
Selected Pieces by Kristin Meekhof
"Soup is The New Juice"
Organic Spa (print & online) July 4, 2016
Link here
2016 Special Podcast with Kimberly Snyder.
Kristin talks about her loss and also shares I.L.L.U.M.I.N.A.T.E – ten steps for creating abundance
Link here
"Mediation For Healing & Overcoming Grief"
Organic Spa (print & online) December 2015
Link here
"Soup is The New Juice"
Organic Spa (print & online) July 4, 2016
Link here
Kristin Meekhof – CEO & Founder
Kristin A. Meekhof graduated with a Bachelor of Arts from Kalamazoo College with a major in psychology. She completed the clinical Master in Social Work program at the University of Michigan, and is a licensed social worker. In 2007, when Kristin Meekhof was 33, her husband (a teacher and veteran) of four years was diagnosed with advanced adrenal cancer. Approximately eight weeks later, he died.
Early praise for the book from Dr. Deepak Chopra
"This a very valuable and practical guide for any woman who has lost her husband due to an untimely death.  Kristin Meekhof's journey is both inspiring and courageous and something we can all learn from."  -Dr. Deepak Chopra
Support From Maria Shriver
"I'm proud of Kristin Meekhof, who has written this inspiring and insightful book to help guide widows through their grief. This book is by an Architect of Change, for all of us who must deal with grief." –Maria Shriver
Global Support from The Loomba Foundation
"This is a book that should be essential reading for every woman struggling to make sense of life after the death of a husband. I recommend this book because it is highly accessible and will surely improve the lives of many widows and those who help widows."
-Lord Loomba, CBE, Founder and Chairman Trustee of The Loomba Foundation