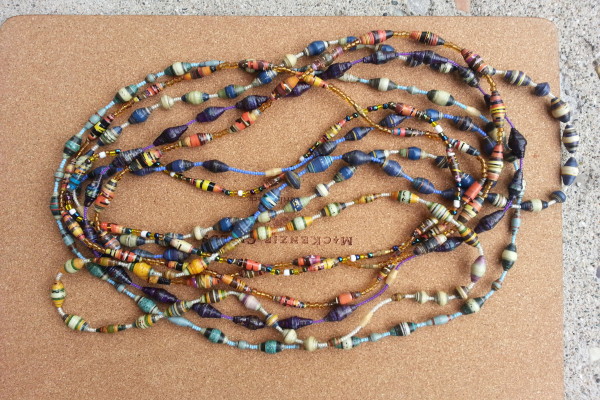 Last month I went to Nairobi, Kenya with a small group of widows. We were connected with a charity organization that services widows and their children. We were given the opportunity to meet with the widows and visit their homes. I had the absolute joy of meeting Peninnah, a mother of three young children. Peninnah is one of those women who you would expect to be depressed and pessimistic, and frankly who could blame her? She lives in a slum, called Kibera, the largest slum many believe to be in Africa. At times it is estimated that nearly 1 million people live here. Peninnah doesn't have running water, electricity, a bank account, or even access to even a bicycle. She spent part of her afternoon with me telling me about her daily life: how she waters down the food to get two meals out of it, cares for her infant, and how she makes necklaces (photographed below) to earn cash.
Peninnah explains the process necessary to make these necklaces. She uses discarded paper, measures and cuts it, then dyes it. Once the paper is dry, she rolls each strip of paper with a toothpick and then puts it together, like you would stringing beads on a necklace. I ask her how long it takes to make one necklace. She responds by telling me that she can make five a day, and has even taught other women in the group how to make the necklaces so that they too can earn a living.
This all seems rather hopeless to me. I think she's living in a disaster zone, and I can't believe that she is smiling and loving on her baby while telling me this. When I ask about how she accesses health care, she calmly explains that she has to save up money to obtain transportation to get to the NGO hospital whenever one of her children needs medical attention. She is a warm and even asks about my late husband. Our conversation comes to an end when she realizes the women are getting together to participate in a group activity. I tell Peninnah that I can hold her baby so that she can participate with the other women.
The next morning our group met the women, and I immediately saw Peninnah holding her baby. Upon sitting next to Peninnah, she opened her purse and gave me a bracelet. I am speechless. She was so grateful for my time in taking care of her baby that she's giving me this bracelet as a token of gratitude. Full of love she said, "This is for you because you held my baby (so) I could be with the group."
This mother who supports her family on less than a dollar a day, has found her way to gratitude. And once she has found it, she then decided to give with an open hand. Most humbling is knowing that the bracelet she gave me could have sold to earn a few shillings.
An open heart fosters gratitude, which in turn as Peninnah knows, produces joy. Gratitude despite any circumstances isn't easy. And so every time I look at the bracelet Peninnah gave me I think of what this gift revealed: gratitude that knows no bounds leads to openheartedness and openhandedness.
Published in Huffingtion Post Healthy Living on 11/17/2014