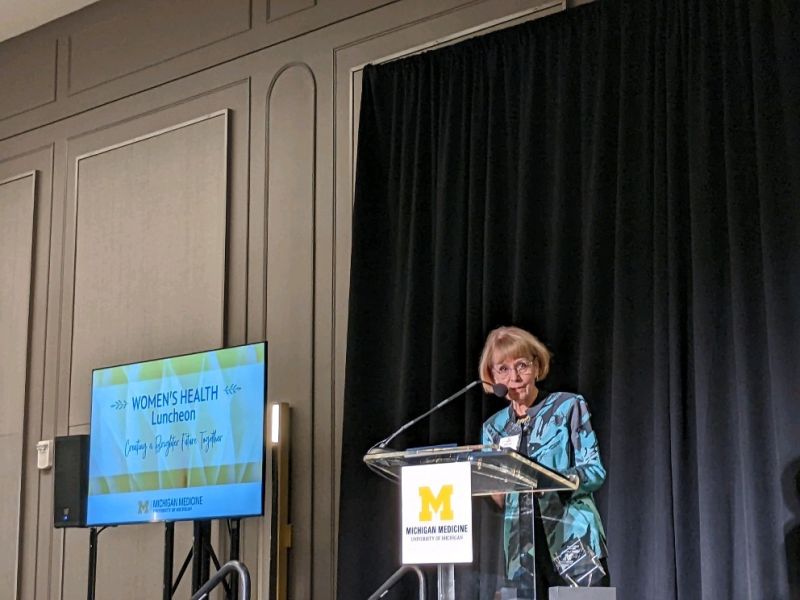 Giving comes in multiple forms. And attending events to support others is one way. Helping women at Michigan Medicine (the University of Michigan) with their commitment to breaking through boundaries to accelerate clinical care, education, and research to benefit women worldwide is one of my passions. I was delighted to attend the first annual Women's Health Luncheon. Gathered together (on April 27, 2022) in Birmingham, Michigan with physicians, researchers, and supporters of diverse women's health causes the event delivered inspiration, advocacy and empowerment. Mary Sue Coleman, first female President of the university explained the Women's Health Innovatin Fund's goal is to identify challenges facing women on a global level, discuss strategies to overcome these barriers, and support one another as we push for changes that can improve the lives of all women.
And over the past eight years, I've dedicated my energy and time to those who impact women across the globe who are living at or below the poverty level. A handful of years ago, I had the opportunity to deeply explore what is unique about the Whole Planet Foundation's work which is dedicated to poverty alleviation, while empowering the world's poorest people with microcredit in places where Whole Foods Market sources products.
In Harlem, I met women entrepreneurs, visited their business, and learned from them how a micro- finance loan directly impacted their small business. True micro-financing sustainable success for women demands a talented team. And this team is led by Joy Stoddard. Joy led the three day Harlem trip, complete with a service project (photo above). What I love about the foundation is that it not only empowers  entrepreneurs, mostly women, but it is fully transparent about their funding (all donations go directly to those they serve).
I'm honored to share I'm now a part of the Whole Planet's Community Engagement Committee.
May the work of these charities inspire you!