Asha Patel's Beautiful Designs
Loving kindness is a mantra that describes the care and intent Asha Patel uses when she makes each piece of her jewelry. With each earring, ring, necklace and bracelet Asha creates, in her home, she choses from a variety of materials – gemstones, gold, sterling, vermeil, brass, leather and silk, which allows for an accessibility in pricing options for clients. Each piece carries with it a special message. For example, these earrings represent the "less is more" mantra.
Despite the jewelry business being an overcrowded market, Asha has found her spot. With clients such as Tammy Tibbetts and nutritionist and author Kimberly Snyder the light seems to shine a little brighter on Asha.
However, what is most beautiful is Asha's generosity. Several weeks, ago, I reached out to her to ask if she would be willing to collaborate on a special piece that would benefit Stand Up To Cancer. Personally, I would not be profiting in any financial way. What surprised me is that not only did Asha immediately agree to help this charity, but Asha decided to dedicate two unisex pieces to all impacted by loss and donate $30 from each online purchase of this bracelet and necklace from February 1, 2016 through August 1,2016 to Stand Up To Cancer.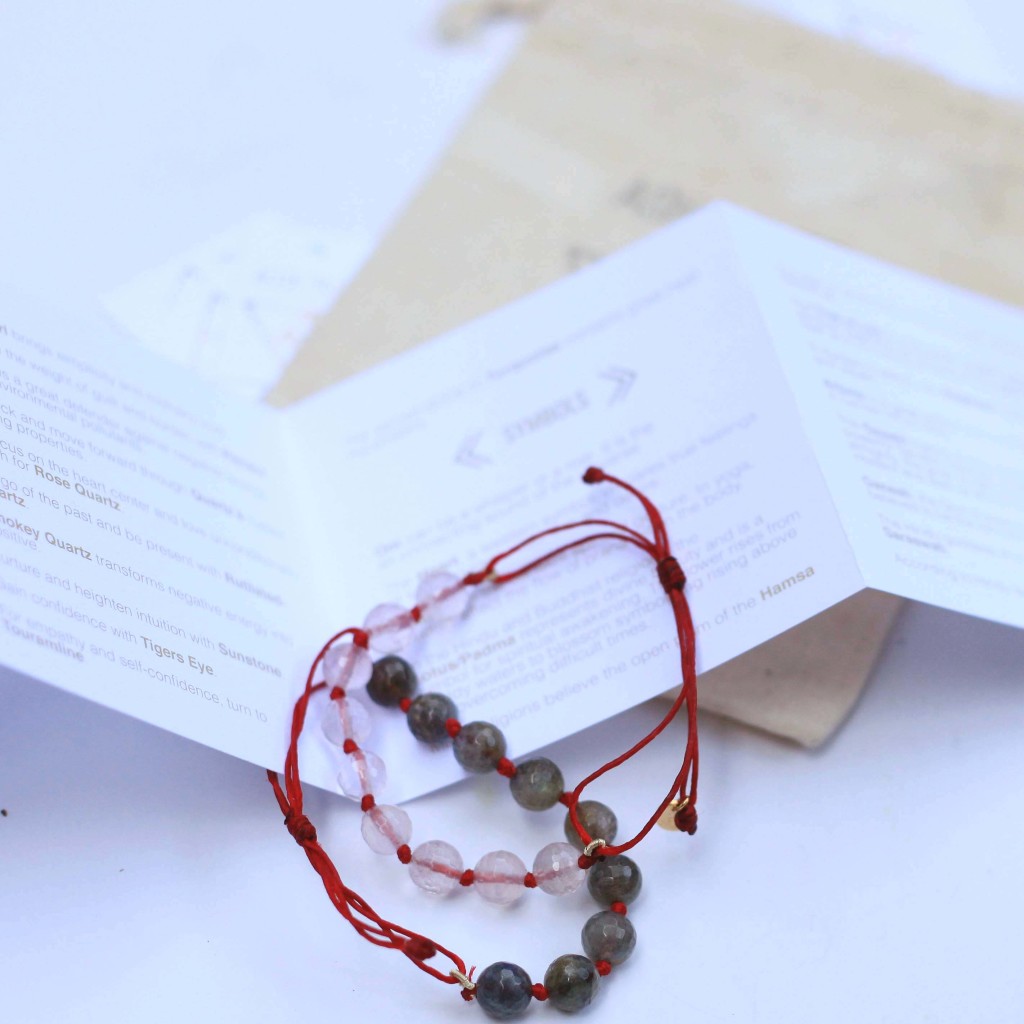 A portion of the sales from the rose quartz bracelet benefit Stand Up To Cancer
Q: What is your educational and work background?

I am a pharmacist by profession and work in a hospital O/R setting on a prn basis. The medical world is continuously changing and so I enjoy practicing in my field to remain current.
Q: What inspires you to create?

My heritage is the inspiration for my designs – a melding of East and West.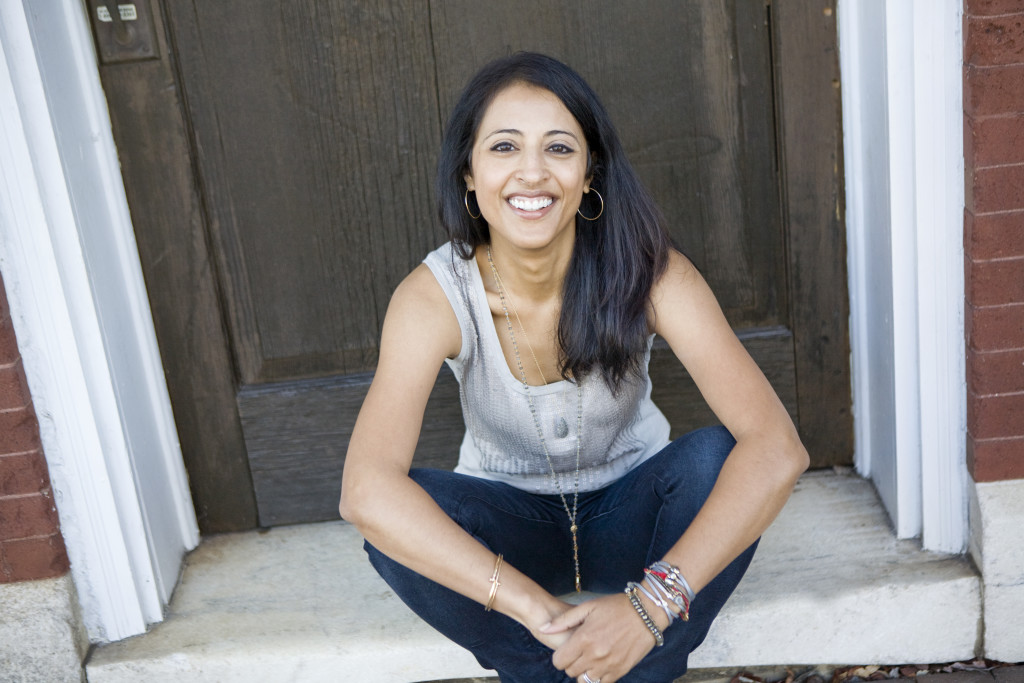 Asha Patel wearing some of her designs; photo used with her permission
Q: As a working mother of 2 children how do you manage your time to work on your business?
I have two sons, Ajay 20 and Roshan 17 so they are fairly self sufficient. Like most women, I try my best to strike a happy work/life balance.
Q: How have your found your niche in a very crowded jewelry business?

I tend to pair the beauty of natural gemstones with simplicity. Most people who are drawn to my jewelry appreciate this along with the intention or symbolism behind the piece.
Q: Tell me about some of the special people you have meant along your business journey

I have met many amazing people but two ladies who stand out are Tammy Tibbetts, founder of She's the First, and Kimberly Snyder, a nutritionist. Tammy is a fantastic lady, who makes this world a better place by raising funds for secondary education for girls in developing countries. Kimberly has a wonderful, beautiful energy and has brought forward the topic of nutrition in a very user friendly way. As a pharmacist, I am a firm believer of the food is medicine concept.
Q: What is the best business advice you can share with an entrepreneur?

Be the best at doing what you love.
Q: Tell me a little about your pieces that benefit Stand Up To Cancer
The bracelet and necklace which benefit Stand Up To Cancer feature rose quartz which is a powerful heart chakra gemstone symbolizing all forms of love. Rose quartz was a perfect stone for the benefit pieces with high energy to keep the heart open and heal emotional wounds.
For more information, visit Asha Patel at her website.